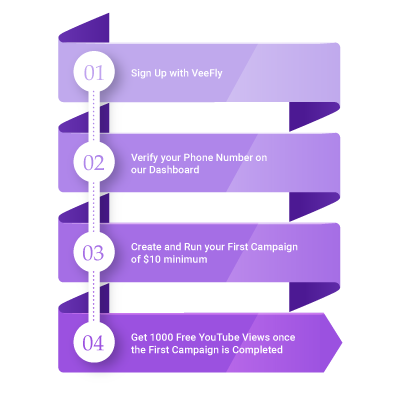 Free

YouTube views

Discover how to grow your YouTube channel with the rich experience of proficient YouTube marketers. Get rid of the breakdowns and nightmares when it comes to getting free YouTube views. However, it is easier said than done. YouTube views are the first step to building a devoted follower base of millions for your channel.

To make it easier and less confusing, VeeFly has certain dashboard privileges that help you get your 1000 free YouTube views. Other factors that boost YouTube views include consistent brand awareness efforts, precise targeting, and diverse promotional strategies.
How
To Boost

YouTube views

Being the 2nd largest search engine in the world, YouTube is accessed by over 2 billion people. When you surf the web to learn how to get YouTube views, you will come across plenty of sites that promise you a ton of views at a dirt-cheap price. In reality, these views are nothing but bots designed to attract fake traffic. We recommend staying away from such spammy services and sites since you face the risk of penalizing your channel.

Instead, you can also look for trusted and legitimateYouTube Promotion service providers that help you increase YouTube views and bring legitimate engagement. You can get a glimpse of our service when you use our free YouTube views feature. YouTube rewards channels whose videos have a good engagement ratio. Whether you have a decent follower count or just starting out, our YouTube promotion services are designed to suit your needs from a 360-degree view.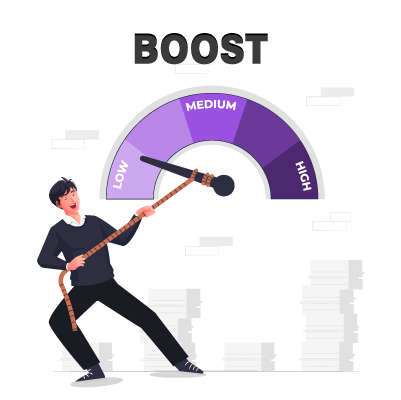 Get
4000 Watch Hours and 1000 Subscribers

On YouTube
What is counted as a view?
Whenever a viewer initiates the playing of a video and watches it for at least 30 seconds, the viewership is counted as 1 view. If a user watches a particular video repeatedly, each new screening is considered a new view. However, if you try to refresh the same video again and again, YouTube's algorithm identifies it as a spammy technique. Similarly, using softwares to attract bot views is an automated response that the platform does not appreciate.
Create engaging videos that grab your viewers' attention for the minimum time span to get free YouTube views and avoid fake views practices that can get your channel banned.
Top 10 Ways To Get
Free YouTube views
A common question among video content creators is how to boost YouTube views. Effective marketing with the help of growth experts is ideal to increase YouTube views. You can also explore the following methods to get views on your videos.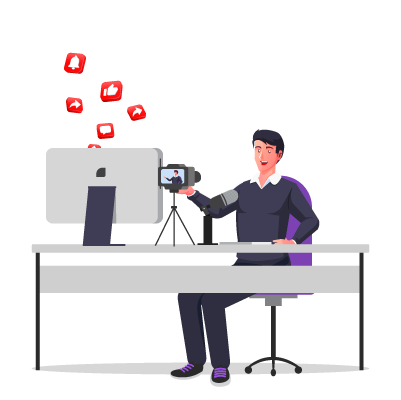 YouTube SEO
YouTube SEO involves learning about search trends and discovering the right tags according to your niche. It helps your videos rank higher on YouTube search results.
Share On Social Handles
Identify the social media platforms where your target audience spends their time. Share your videos on these platforms to drive quality traffic to your YouTube channel.
Use Intriguing Titles
Craft titles that catch the attention of your potential viewers and get them interested in viewing your video. Keep it concise using the right set of keywords.
Encourage To Subscribe
While it is true that your video content should add value to your viewers, you can ask them to subscribe to your channel without any hesitance.
Influencer Collaborations
Collaborate with other influencers from similar niches and create engaging content to get YT views. It encourages brand awareness and increases your subscribers.
Creative Thumbnails
Thumbnails that spark intrigue in your viewer's mind will surely increase YouTube views on your videos. Ensure to create compelling thumbnails for your videos.
Tags
Using the right set of tags ensures that your videos rank higher when users search for the tags relevant to your videos and attract more views.
Niche Research
Understand your audience deeply to know what they are looking for as it helps you to create video content that aligns with your target audience to get free YT views.
Study Competitor Video Strategies
Competitor analysis will help you add missing elements to your videos. It increases the odds of users viewing more of your videos and subscribing to your channel.
Organize Separate Playlists
Users prefer to view more videos from those channels that are highly organized. Hence, if you have a lot of videos it is always better to create separate playlists.
Boost YouTube Views With Our
YouTube SEO Tools
VeeFly has some built-in advanced tools that help you streamline and optimize your YouTube video performance, thereby assisting you to increase YouTube views.
Keyword Title Generator
Our Keyword Title generator creates SEO-friendly yet quirky titles to attract massive viewers.
Hashtag Generator
Hashtag Generator generates hashtags to show your video to the right audience.
Tag Extractor
Make your videos discoverable using the right tags and stay ahead of your competitors.
Title Rewriter
Title Rewriter helps you reoptimize video titles to attract your target audience.
Description Generator
Description Generator helps to create precise video descriptions to further optimize the Video.
Benefits Of
Increasing YouTube Views
When you have a solid strategy to increase YouTube views, you can outgrow your competition in less time span. Increasing the viewership of your videos has some major benefits associated with it.
Increase Subscriber Base
Users tend to easily subscribe to channels with higher viewership on their videos. When you manage to get 1000 free YouTube views, you also have a high chance of gaining potential subscribers that can turn into loyal viewers. Whether you are a new content creator or have a minimum fan base, if your videos get few views, then it's time to increase YouTube views to attract more subscribers.
Strong Credibility
To establish strong credibility among your audience, you need to expand your viewership to a broader audience, for which you need to attract more eyeballs to your videos. Having a higher view count lets your viewers know that your channel has decent credibility and makes them more likely to explore other videos from your channel.


Higher Video Ranking
More views on your videos lead to higher rankings on search results. Higher rankings of your videos increase the chances of attracting free YouTube views. More viewership makes your videos appear at the top of the search rankings.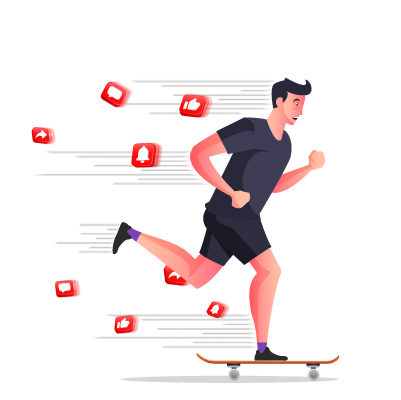 What Is The Fastest Way To Get
1000 Free YouTube Views?
Growing your presence on YouTube can be a daunting task. However, team VeeFly makes this task easier. We understand the significance of a robust presence on the platform and have solutions to help you quickly hit the target of 1000 free YouTube views. Our growth plans are designed to help you increase YouTube views in a reasonable time span. Additionally, we also have valuable tools like title generator, Tag extractor, and Hashtag generator to make your videos SEO-friendly and get YouTube views.
All you need to do is enter the URL of your video in our dashboard. We promote your videos to the right audience based on your campaign inputs. Quickly, get started with your first paid campaign, and soon you will learn how to use the different features of VeeFly to grow your YouTube channel.
Consistently creating compelling content and promoting it to the relevant audience are the core pillars of growing the reach of your videos. YouTube is growing massively day by day. So, do not miss any chance to leverage YouTube for your growth. Hop on your journey to fame with VeeFly's 1000 free YouTube views after your first paid campaign.
What People Say
About Veefly
Frequently asked

questions

!