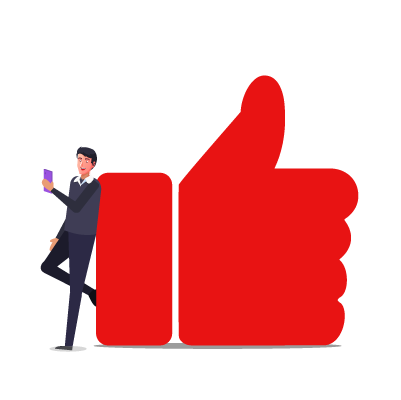 Buy

YouTube likes

With growing competition, it is challenging for YouTubers and content creators to drive more engagement on their videos. With VeeFly, you can outgrow your competition and expand the reach of the videos to a broader audience using Google Ads. It's time you stop buying YouTube Likes from other websites and start your YouTube Video promotion with VeeFly, where you know that you're getting genuine YouTube Likes using Google ADs.
How Buying
YouTube Likes

Can Help Grow Your Channel?

The prime focus of content creators is gaining more subscribers for their channels. A higher number of likes encourages viewers to subscribe to your channel and watch more of your videos. When you buy YT likes, you get a headstart to be more noticeable among your target audience. Your videos get higher visibility amidst the vast video content uploaded every day. Viewers who come across your videos look at the number of likes it has gathered. More likes appeal to the user to view your video and potentially engage with its content.

With increasingly higher engagement rates, your videos have higher chances of appearing in the top position in search results. When you get more likes on YouTube videos, the algorithm pushes your content to reach a larger audience. However, when you buy YouTube Likes from non-genuine websites, you are also at the risk of getting your channel suspended. At VeeFly, you not just buy YouTube Likes but promote your video using Google Ads, which in turn gets you real YouTube Likes from your targeted audience. This is way better than buying youtube likes and provides better results.
Benefits of Buying
YouTube Likes
When it comes to growing your channel, buying YouTube likes is a smart choice. Many users believe that videos having the most likes have the best content. So if you buy likes on YouTube, the audience will prefer watching your video content over your competitors. Consider these advantages when you buy YT likes.
More Visibility Of Your Videos
Users tend to watch videos with higher engagement rates. When you buy likes on YouTube videos, you increase the chances of getting it in front of a more relevant audience as it boosts the rankings of your video, encouraging it to appear higher in the search results.
Get more YouTube Subscribers
With more views and likes you receive on your video, there will also be an increase in the number of subscribers. The more your videos reach the right users, the higher their chances of becoming lifelong subscribers.
Helps To Build Credibility
Viewers tend to view the video when it has decent views and subscribers. This leads to getting more comments and likes, boosting your channel's credibility among your target audience. Besides, when you buy YouTube likes, you increase the potential engagement chances that help you outgrow your competitors.
Cons of
Buying Likes

From Other Sites
Non-Reliable Source
You must choose a reliable YT promotion company because many YouTube service providers deliver low-quality and the views are not legitimate. It won't help your channel grow.
Expensive Services
Many YouTube marketers charge a premium yet do not provide high-quality engagement. However, VeeFly promotes your videos through Google ads at reasonable prices.
Risk Of Getting Your Channel Banned
If bots are used to increase the engagement rates on your videos, the YouTube algorithm can easily spot this and flag your channel for further action.


Risk Of Getting Your Channel Shadow Banned
YouTube's algorithm can also shadowbann your account if you buy unethical engagement. Which in return will restrict you from availing certain features on YouTube.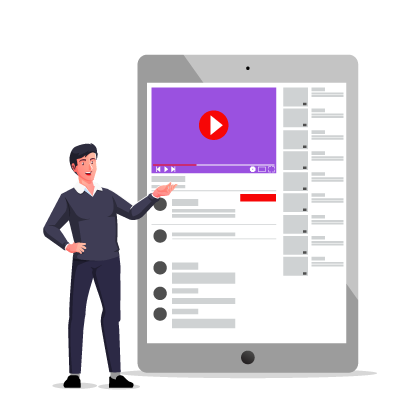 How to Manage Your
YouTube Likes and Comments
YouTube likes, and comments are essential engagement metrics that help the YT algorithm understand the significance of your content and show it to a suitable audience.
Always make it a point to buy YouTube Promotions from genuine websites like VeeFly, which will get you YouTube Likes and Comments from real people. An increase in the number of likes for your relevant comments will boost the video rankings. It can be a great way to boost your channel, provided you do not use ways that violate the platform's terms of service.
How To
Get Likes On VeeFly?
We at VeeFly, don't sell YouTube Likes or YouTube comments; instead, we promote your videos to the relevant audience through Google Ads; you will receive real views, which will eventually increase likes on your YouTube videos. We do not give you bot views; therefore, the engagement you receive from your viewers is genuine. That's why making quality content is essential. Getting likes on YouTube through VeeFly is easy.
Sign up on VeeFly.
Copy the URL of the video you want to get YouTube likes and paste it on the dashboard.
Then set up your campaign by entering the demographic information. Select the budget.
Complete the entire payment process to start your campaign.
Finally, sit back and start getting views, likes, and comments from your viewers.
Frequently asked

questions

!